HONORARY COMMITEE
Professor Tod MACHOVER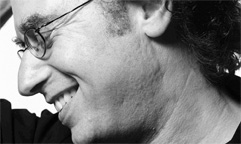 Tod Machover is head of the Media Lab's Hyperinstruments/Opera of the Future group. An influential composer, he has been praised for creating music that breaks traditional artistic and cultural boundaries; his music has been performed and commissioned by some of the world's most important performers and ensembles. In 1995, he received a « Chevalier de l'Ordre des Arts et des Lettres, » one of France's highest cultural honors, and in 1998 he was awarded the first DigiGlobe Prize from the German government. He has composed five operas and is the inventor of Hyperinstruments, a technology that uses smart computers to augment virtuosity. Hyperinstruments have been used by performers such as Yo-Yo Ma, Prince, and Peter Gabriel.
Machover is also the creator of the Toy Symphony, an international music performance and education project. His research group is currently examining ways to use music in therapy for emotionally and physically challenged individuals. His newest opera, Death and the Powers, to premiere in Monte-Carlo 2010, is being developed by an extraordinary creative team of international artists, designers, writers, and theatrical luminaries, as well as by an interdisciplinary team of Media Lab graduate and undergraduate students. Scored for a small ensemble of specially designed Hyperinstruments, Powers will feature a robotic, animatronic stage—the first of its kind—that will gradually « come alive » as the opera's main character. Machover, who was formerly director of musical research at Pierre Boulez's IRCAM institute in Paris, received both his BA and MA from the Juilliard School in New York.